Red Light Camera – new statistics
It's #roadsafetyweek and the new traffic offences enforcement camera, funded by Blackburn with Darwen Borough Council and the Lancashire Road Safety Partnership, live since Monday October 18, has already started detecting an alarming number of motoring offences in Blackburn.
Following Government Home Office Type Approval (HOTA), and thanks to working in partnership with Lancashire Road Safety, Blackburn with Darwen Council's highways team went live with the first red light enforcement camera (RLCs) in the county last month.
Numbers of detections so far after just four weeks of data show an alarming number of incidents per day. Between November 1 and November 15, detections show 396 speeding offences and 78 occasions when motorists have gone through a red light on Barbara Castle Way.
The innovative camera was installed without digging up roads, and is independent of traffic signals, which means less maintenance costs. The unit also has the lowest energy usage available, reducing the borough's carbon costs which supports BwD Council's climate emergency goal to be net carbon neutral by 2030.
The first camera of its kind in Lancashire, the new kit allows for enforcement of speed offences, as well as those who run a red light which is a common cause of collisions, especially at junctions.
Barbara Castle Way was identified as a trial site for the camera which is seen as leading technology in prosecuting drivers who jump red lights or speed up to avoid them which is obviously very dangerous. The Blackburn junction has a poor history of road safety with 18 collisions being recorded during 2016 – 2020, including one fatality.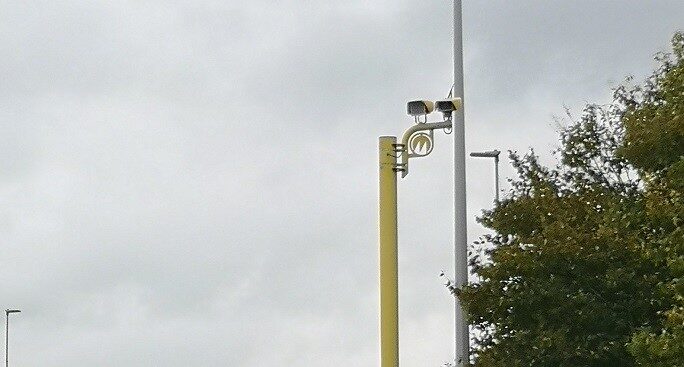 "This innovative camera technology will be a fantastic tool to help us make the roads safer for everyone in our borough. I'm passionate about safer roads for our residents and proud of this forward-thinking Council action – all road users deserve to feel safe which means tackling dangerous driving in our borough. Driving through red lights is always a dangerous manoeuvre and this camera will help to penalise drivers who think it is a clever thing to do. Hopefully we will be in a position soon where we can roll out more of these and make our roads even safer."
Safer Roads Unit Manager for Lancashire Constabulary, Lara Jones, said:
"Sadly our officers have attended numerous incidents around this junction, including the fatal collision in 2016.
Unfortunately having reviewed the footage recorded during the trial phase and more recently whilst testing the new system it is clear many drivers continue to ignore the traffic signals and proceed when the lights have clearly changed to red or more often speed up in an effort to beat the red light.
This irresponsible behaviour creates an unacceptable risk for other motorists and vulnerable road users and increases their chances of being involved in a collision; the new technology will allow us to enforce this junction day and night and any motorist ignoring the traffic signals or driving above the 30 mph speed limit will be prosecuted; hopefully this will act as a strong deterrent, improve driver behaviour and as a result have a positive impact on road safety."
Using the innovative camera system, traffic can be monitored remotely and offences prosecuted via a single device to increase road safety and reduce collisions. Lancashire Constabulary will manage all detections in line with their current enforcement policy. In the UK, over 67,000 motorists were given points for failing to stop at traffic lights in 2015. A survey found that about 25 per cent of motorists admit to running a red-light in the previous year, which is equivalent to 9.3 million motorists. Red light running can have severe consequences when it results in collisions that cause damage to vehicles and road users.